Vinegar Cleaner
Intense descaling of sinks, showers, bathtubs, tiles and fittings. The formula with vinegar removes stubborn limescale, soap scum and dirt deposits and ensures a streak-free shine. Thoroughly removes malodour.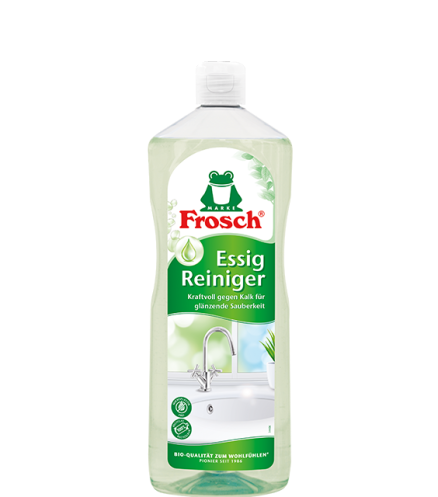 tough on limescale
with the strength of vinegar
for kitchen and bath
Dosage for 5 l of cleaning water: not very dirty: 30-60 ml (2-4 teaspoons). In the case of normal/stubborn dirt, apply undiluted, let sit and rinse thoroughly. Not suitable for acid-sensitive materials such as marble, fittings with goldbath or enameled bathtubs.
< 5 % non-ionic sufactants, anionic surfactants. Further ingredients: acetic acid, food colorant.
detergent regulation

Free of animal-derived ingredients
Formulas free of animal-derived ingredients.

Microplastic free
Water-friendly formulas clean and care without microplastics.

Recycled / Recyclable
Packaging made of recycled and recyclable materials makes possible the circularity of raw materials.