pH Neutral Cleaner
Gentle cleaning of floors, furniture, wood, tiles and sanitary facilities. The gentle pH-skin neutral formula is gentle to skin and materials - even with frequent use. Also ideal for the small laundry by hand.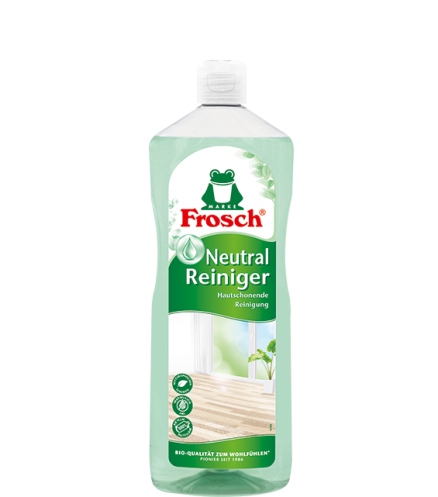 gentle cleaning of all surfaces
gentle on skin and materials
pH skin-neutral
ideal for washing hands too
Dosage for 5 l of cleaning water: not very dirty: 30 ml (2 tablespoons), dirty: 60 ml (4 tablespoons). In the case of stubborn dirt, apply undiluted, let sit and rinse thoroughly. Tip: Observing the dosage instructions helps to save energy, reduces water usage and water pollution.
< 5 % anionic surfactants, non-ionic surfactants, preservatives (sodium benzoate), perfumes. Further ingredients: food colorants.
detergent regulation

Free of animal-derived ingredients
Formulas free of animal-derived ingredients.

Recycled / Recyclable
Packaging made of recycled and recyclable materials makes possible the circularity of raw materials.

Microplastic free
Water-friendly formulas clean and care without microplastics.

European surfactants
Use of European surfactants to ensure shorter transportation routes and reduced dependency on tropical oils from monoculture.