Glass Cleaner Spirit
Streak-free cleaning of glass and almost all wipeable surfaces. The powerful formula with fat-dissolving alcohol ensures radiant cleanliness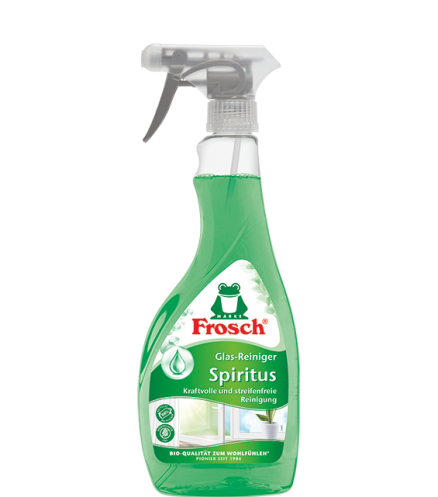 Streak-free cleaning of glass and almost all wipeable surfaces.
The powerful formula with fat-dissolving alcohol ensures radiant cleanliness.
Apply to a dry cloth and use it to wipe clean the surface to be cleaned. Tip: Accurate dosing helps to save energy, reduces water usage and water pollution.

Free of animal-derived ingredients
Formulas free of animal-derived ingredients.

Recycled / Recyclable
Packaging made of recycled and recyclable materials makes possible the circularity of raw materials.

European surfactants
Use of European surfactants to ensure shorter transportation routes and reduced dependency on tropical oils from monoculture.

Microplastic free
Water-friendly formulas clean and care without microplastics.