Washing Machine Hygiene Cleaner Citrus
Powerful cleaning and descaling of the washing machine. The 3-in-1 formula with lemon removes dirt and limescale deposits from the washing drum, pipes, heating rods and hard-to-reach parts and eliminates unpleasant odours. Gentle on materials.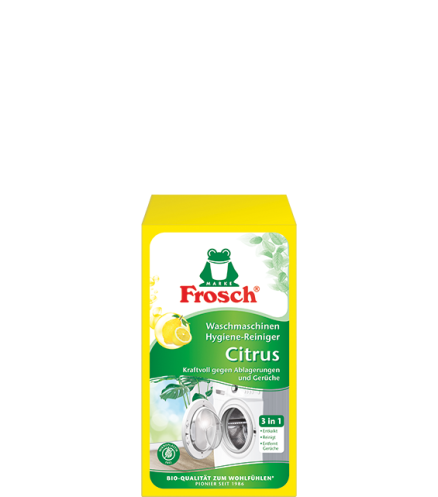 3 in 1: removes limescale, cleans, eliminates odors
citric acids dissolve limescale
carton made of 95% recycled paper
formula gentle to materials
Place the contents (250g) in the empty drum of the washing machine. Start the main washing program (at least 1h30, at least 40°C) without pre-wash, detergent and laundry.
<5% non-ionic surfactants. Further ingredient: citric acid, apple acid in food quality.
detergent regulation

Free of animal-derived ingredients
Formulas free of animal-derived ingredients.

Microplastic free
Water-friendly formulas clean and care without microplastics.