Rinse aid Bio-Alcohol
For brilliant shine of glasses, dishes and silverware. The efficient formula with bio-alcohol provides fast drying and therefore residue-free clean rinsing/washing-results. Prevents limescale.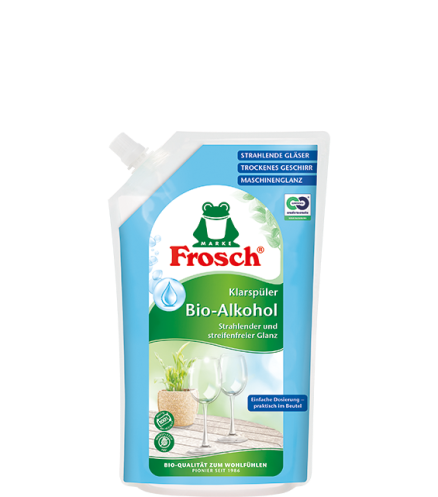 sparkling, no-streak shine
dry dishes and glasses
clean machine
pouch 100 % recyclable
Fill the rinse aid into the dishwasher's rinse aid compartment. Only intended for use in household dishwashers. Follow the instructions of the dishwasher manufacturer. Tip: Use a low temerature program. Accurate dosing helps to save energy, reduces water usage and water pollution.
5–15% non-ionic surfactants, <5% anionic surfactants. Further ingredient: bio alcohol.
detergent regulation

Free of animal-derived ingredients
Formulas free of animal-derived ingredients.

Recycled / Recyclable
Packaging made of recycled and recyclable materials makes possible the circularity of raw materials.

Microplastic free
Water-friendly formulas clean and care without microplastics.