Dishwashing tabs Classic Green Lemon
Cleans the dishes, pots and pans spotlessly shiny. The powerful formula with green lemon removes grease and even stubborn incrustations leaving a pleasant fresh lemon scent.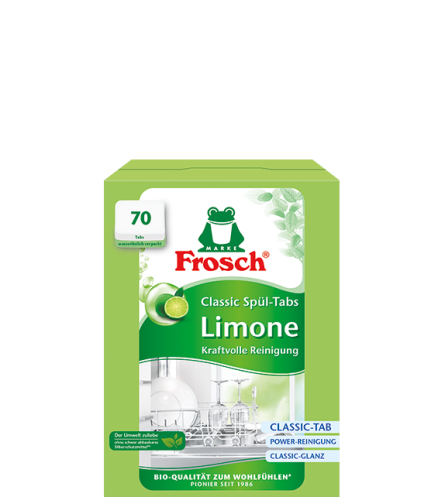 powerful cleaning & shine
eco carton made of 95% recycled paper
70 tabs with water-soluable wrapping
Dosage (fully loaded machine): 1 tab. Add salt and rinse aid for an optimal cleaning result. Place the tab in the product compartment of your dishwasher. The hardness of your water can be requested from the local water supply company. Tip: Use a low temerature program. Accurate dosing helps to save energy, reduces water usage and water pollution.
5 - 15% oxygen-based bleaching agents, <5% non-ionic surfactants, polycarboxylates, enzymes (amylase, protease), perfumes. Further ingredient: lemon extract.
detergent regulation

Free of animal-derived ingredients
Formulas free of animal-derived ingredients.

Microplastic free
Water-friendly formulas clean and care without microplastics.