Frosch Carpet & Upholstery Spray
Powerful stain removal for stubborn stains such as red wine, cola, juice, coffee, tea, grease, oil, sauces and make-up. The special stain-removing formula with bio-alcohol neutralises even stubborn odours. Also ideal for removing stains from pet dirt.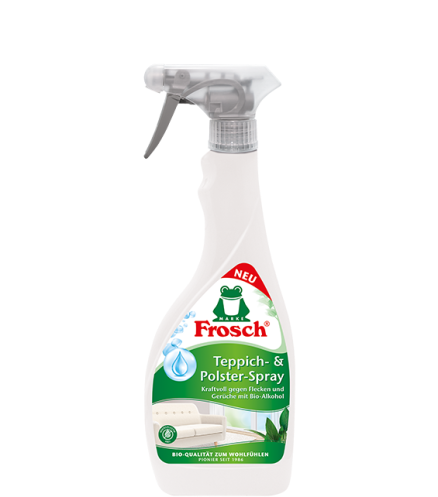 powerful stain remover
treats colors gently
vegan
Odour-neutralising
Apply to the stain before washing, leave on for up to 10 minutes and wash in the washing machine as usual. Test the colour authenticity of textiles in an inconspicuous place. Follow the manufacturer's material and care instructions.
Tips for usuage
< 5 % anionic surfactants, non-ionic surfactants. Other ingredients: Organic alcohol.
detergent regulation

Free of animal-derived ingredients
Formulas free of animal-derived ingredients.

Microplastic free
Water-friendly formulas clean and care without microplastics.

European surfactants
Use of European surfactants to ensure shorter transportation routes and reduced dependency on tropical oils from monoculture.