Dishwashing lotion Aloe Vera
Cleans the dishes spotlessly shiny. The skin-caring formula with aloe vera effectively removes grease and dirt. The very good skin compatibility of the pH-neutral dishwashing liquid has been dermatologically confirmed.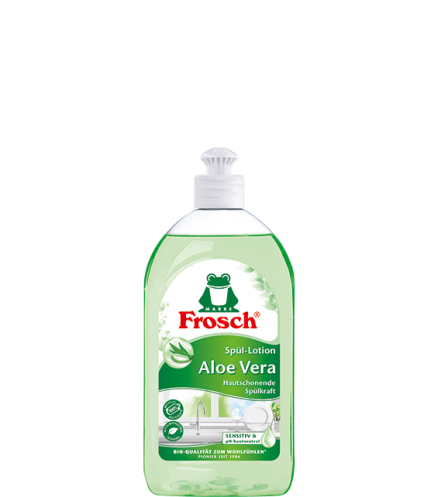 gentle to skin washing power
contains aloe very extract
pH skin-neutral
hypoallergenic
Recommended dosage for 5 L of dishwashing water: not very dirty: 3 ml, dirty: 5 ml. Tip: Accurate dosing helps to save energy, reduces water usage and water pollution.
5 - 15% anionic surfactants, <5% amphoteric surfactants, non-ionic surfactants, preservatives (sodium benzoate), perfumes. Further ingredients: aloe vera barbadensis, food grade colorants.
detergent regulation

Free of animal-derived ingredients
Formulas free of animal-derived ingredients.

Microplastic free
Water-friendly formulas clean and care without microplastics.

Recycled / Recyclable
Packaging made of recycled and recyclable materials makes possible the circularity of raw materials.

European surfactants
Use of European surfactants to ensure shorter transportation routes and reduced dependency on tropical oils from monoculture.