Wood Cleaner
Intensive cleaning and maintenance of all wooden surfaces and wooden floors. The formula with pine and orange effectively removes stains, such as red wine, coffee, olive oil or wax crayons. Reduces scratches and dissolves stubborn stains easily. Leaves a fresh orange scent.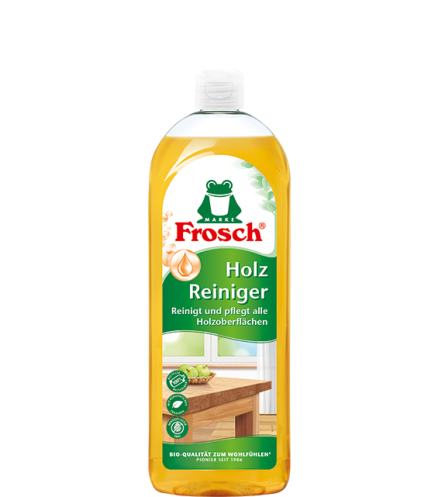 cleans and cares for all species of wood
also suitable for undiluted application
with the natural care ingredients of pine
2 spoons (30 ml) for 5 l of warm water. Use pure for smaller stubborn stains, let sit and rinse well. Tip: Accurate dosing helps to save energy, reduces water usage and water pollution.
< 5% non-ionic surfactants, perfumes (linalool), preservatives (sodium pyrithione, phenoxyethanol). Further ingredients: pine extract, orange extract.
detergent regulation

Free of animal-derived ingredients
Formulas free of animal-derived ingredients.

Recycled / Recyclable
Packaging made of recycled and recyclable materials makes possible the circularity of raw materials.

Microplastic free
Water-friendly formulas clean and care without microplastics.