Kitchen Hygiene Cleaner
Hygienic cleaning of all kitchen surfaces, as fridge, microwave and worktops. The food safe formula with juniper ensures an optimal removal of dirt and food residues. Eliminates malodour.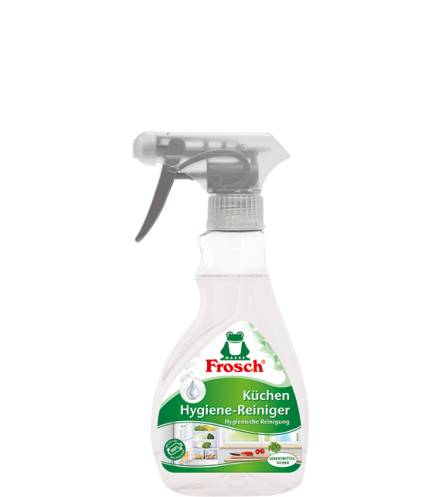 powerful and hygienic cleaning
eliminates unpleasant odors
safe for use near food
for almost all wipeable surfaces
Spray on, allow a short time to take effect, and wet wipe clean, then, if necessary, polish with a dry cloth. Do not use on unsealed wood or waxed and oiled surfaces. Not suitable for acrylic surfaces. Test on an inconspicuous spot first on painted surfaces.

Free of animal-derived ingredients
Formulas free of animal-derived ingredients.

Microplastic free
Water-friendly formulas clean and care without microplastics.

Recycled / Recyclable
Packaging made of recycled and recyclable materials makes possible the circularity of raw materials.

European surfactants
Use of European surfactants to ensure shorter transportation routes and reduced dependency on tropical oils from monoculture.