Hygiene Cleaner Lavender
Removes limescale deposits, water stains and soap residues in the shower and bath with particular power. The recipe with lavender extracts ensures hygienic and shiny cleanliness. Leaves a fresh lavender scent.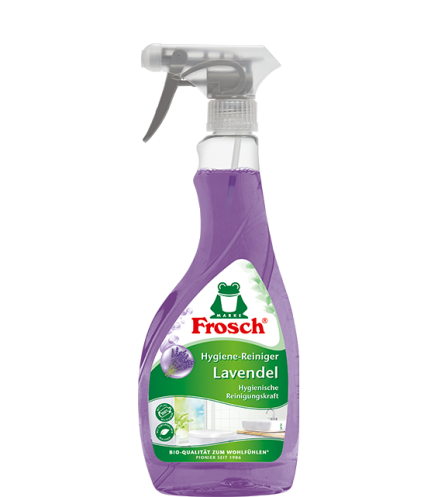 hygienically clean
for kitchen and bath
eliminates unpleasant odors
Spray on, leave to take effect briefly and wipe clean with a wet cloth, if necessary polish with a dry cloth. Not suitable for acid-sensitive surfaces like e.g. marble, sensitive surfaces like some synthetics, fittings or enamel. On sensitive surfaces try first on an unobtrusive place. Tip: Accurate dosing helps to save energy, reduces water usage and water pollution.
< 5 % anionic surfactants, perfumes. Further ingredients: lavender oil, cosmetical colorants.
detergent regulation

Free of animal-derived ingredients
Formulas free of animal-derived ingredients.

Microplastic free
Water-friendly formulas clean and care without microplastics.

Recycled / Recyclable
Packaging made of recycled and recyclable materials makes possible the circularity of raw materials.

European surfactants
Use of European surfactants to ensure shorter transportation routes and reduced dependency on tropical oils from monoculture.