Frosch Oase Winterberries
Discover Frosch Oase Winterberries Limited Edition: A cherished scent for tranquility. Embrace sustainability with natural oils, a glass bottle, cork, rattan sticks, and 100% recycled paper packaging. An exceptional fragrance for the cold season.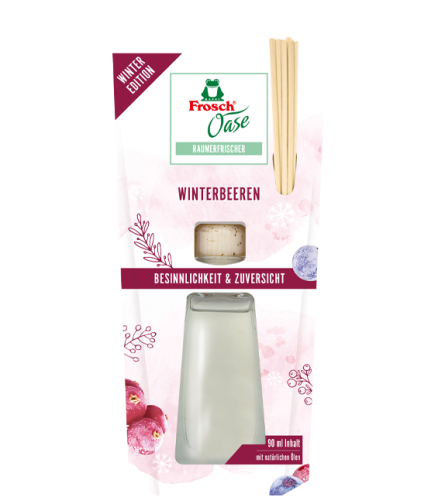 room fragrance with natural oils
high-quality design glass bottle
includes 90-ml sachet and reed diffusers
Place the rattan sticks inside the bottle. As soon as the sticks have soaked up the fragrance, it unfolds. Depending on the room climate and the number of sticks, the scent lasts approx. 6 - 8 weeks.

Free of animal-derived ingredients
Formulas free of animal-derived ingredients.

Microplastic free
Water-friendly formulas clean and care without microplastics.