Frosch Baby Fabric Softener
Frosch baby fabric softener is a particularly skin-friendly fabric softener for extra soft laundry. The mild formula with natural camomile extracts gently cares for baby's linens and makes them cuddly and cozy.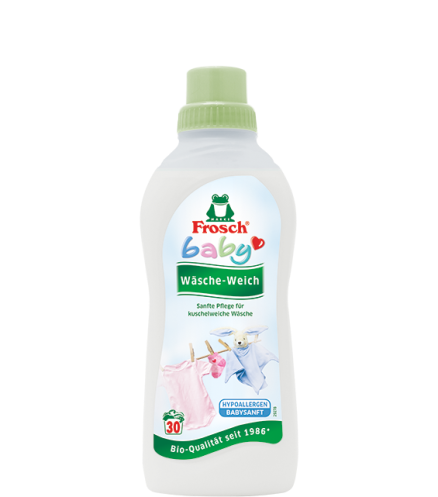 30 loads of laundry
hypoallergenic: no dyes, mild fragrance
suitable for persons with allergies
vegan
Add fabric softener to the fabric softener compartment. One cap corresponds to 40 ml. Recommended dosage (for 4-5 kg dry laundry): soft laundry: 25 ml extra soft laundry: 35 ml

Free of animal-derived ingredients
Formulas free of animal-derived ingredients.

Microplastic free
Water-friendly formulas clean and care without microplastics.

European surfactants
Use of European surfactants to ensure shorter transportation routes and reduced dependency on tropical oils from monoculture.