Detergent Apple
High washing power for all textiles from 20°-95°C, not suitable for wool and silk. Efficient formula with apple for a bright and clean laundry. Without addition of preservatives, dermatologically tested.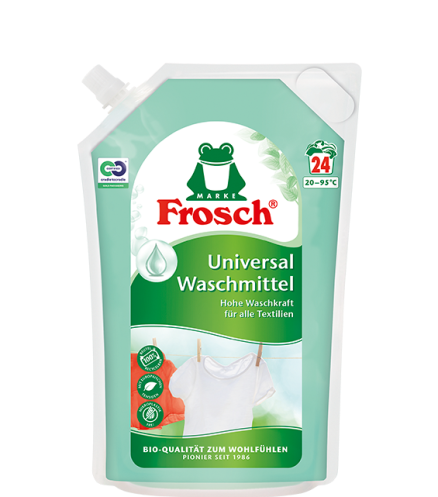 all-purpose detergent for all textiles
24 loads of laundry
pouch 100 % recyclable
20° - 95° C
Pre-sort the washing (e.g. according to colour, degree of soiling, fibre type) and observe the care instructions for the fabric. Follow the dosage chart on the back label. Dosage: Dose according to soil and water hardness, follow the dosing instructions. Always wash with full load. For more information on the hardness of your water, please contact your water supply company.
5 - 15% anionic surfactants, non-ionic surfactants, <5% soap, enzymes (Protease, Amylase, Lipase, Pectate Lyase, Mannanase), perfumes (Limonene, Hexyl Cinnamal, Benzyl Salicylate, Citronellol, Linalool)
detergent regulation

Free of animal-derived ingredients
Formulas free of animal-derived ingredients.

Microplastic free
Water-friendly formulas clean and care without microplastics.

Recycled / Recyclable
Packaging made of recycled and recyclable materials makes possible the circularity of raw materials.

European surfactants
Use of European surfactants to ensure shorter transportation routes and reduced dependency on tropical oils from monoculture.