Delicate Almond Detergent
The fiber-friendly detergent is suitable for delicate fabrics such as wool, silk, down and lingerie. The formula with natural almond oil cleans gently, protects colors and smooths fibers. That protects wool from pilling and increases the clothing's wearing comfort.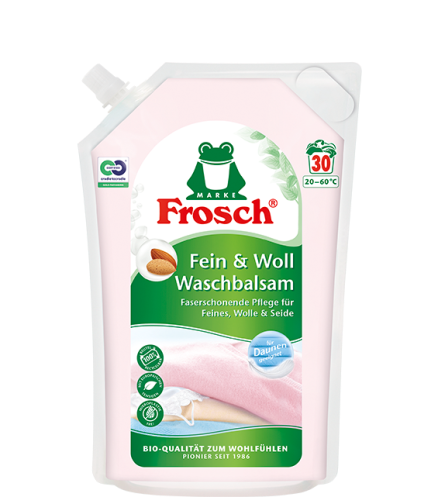 for delicates, wool, silk and down
20° - 60° C
30 loads of laundry
also suitable for hand washables
pouch 100 % recyclable
5 - 15% anionic surfactants, non-ionic surfactants, <5% soap, enzymes (Amylase, Cellulase), perfumes.
detergent regulation

Free of animal-derived ingredients
Formulas free of animal-derived ingredients.

Microplastic free
Water-friendly formulas clean and care without microplastics.

Recycled / Recyclable
Packaging made of recycled and recyclable materials makes possible the circularity of raw materials.

European surfactants
Use of European surfactants to ensure shorter transportation routes and reduced dependency on tropical oils from monoculture.