Concentrated Softener Pomegranate
The recipe with pomegrante extracts gently smooths the fibers and makes the skin feel velvety. Skin-friendly formula with carefully selected fragrances - without dyes and the addition of preservatives, dermatologically tested, hypoallergenic.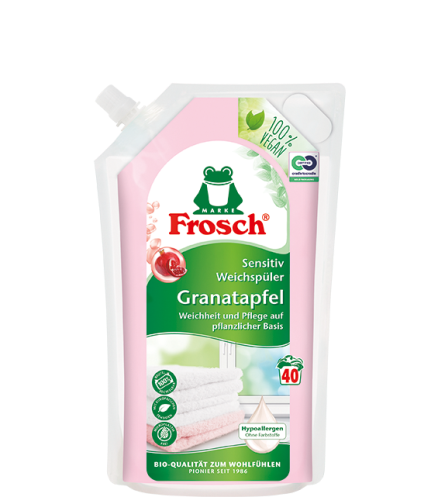 plant-based softness and care
40 loads of laundry
hypoallergenic: no dyes, mild fragrance
pouch 100 % recyclable
Place fabric conditioner in the fabric conditioner compartment.
5 – 15% cationic surfactants, perfumes. Further ingredients: pomegranate extracts.
detergent regulation

Free of animal-derived ingredients
Formulas free of animal-derived ingredients.

Microplastic free
Water-friendly formulas clean and care without microplastics.

Recycled / Recyclable
Packaging made of recycled and recyclable materials makes possible the circularity of raw materials.

European surfactants
Use of European surfactants to ensure shorter transportation routes and reduced dependency on tropical oils from monoculture.